Wines / Valpolicella Classico DOC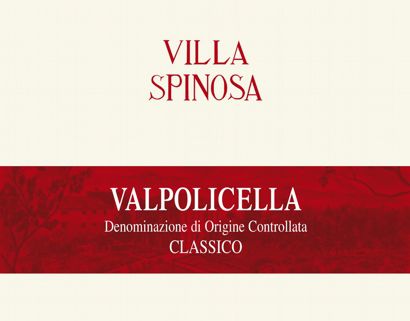 Valpolicella Classico DOC
It is the symbol of our land: a glass of it is like a trip throughout the Valpolicella Classica, discovering its colours and aromas, learning about its history, culture and tradition
Vintage:
2016
It is the symbol of our land: an everyday wine, young, simple and fresh. It is a wine full of joy and rich in scents of sour cherry and cherry, amazingly easy to drink. To drink it is like strolling through the valley of Valpolicella Classica, experiencing colours and scents, learning about history, culture and tradition.
Varieties
Principally a blend of Corvina Veronese and Corvinone, remaining small percentage of other autochthonous varieties as permitted in the production regulations.
Geographical Location
Jago (Negrar in Valpolicella) and Figari (Marano di Valpolicella), hilly areas in Valpolicella Classica close to Colle Masua.

Characteristics of the vineyard
Altitude: between 212 and 305 m ASL.
Exposure: east, Negrar in Valpolicella, and west, Marano di Valpolicella.
Type of soil: soils originating from marine sediment, calcareous, not very deep and of average fertility.
Planting System: Guyot, from 3700 to 4500 vines per hectare.
Harvest
Manual harvest, from middle of October, the grapes are carefully selected and placed in baskets.
Yield: 60-65 hectolitres of wine per hectare.
Vinification
The berries are gently destemmed and crushed.
Fermentation temperature: not exceeding 28 °C.
Malactic fermentation: autumn.
Ageing in steel tanks: until March.
Ageing in bottle: 3-6 months.


Wine characteristics
Colour/Aroma/Taste: red, with scents of fruit, sour cherry and cherry.
Alcohol content: 12% Vol.
Food pairing
With "soppressa", salami, bacon, bacon fat - classical veronese appetizers - accompanied by "polenta", with cod, with informa first and second courses, typical everyday dishes. , With fish salad, pilchards or fish typical of Lake Garda, such as "carpione". 
Serve at 14-16 °C, in medium bowled glasses.
Awards and Reviews